Fall is one of the best times of the year to find grapes. Sure, they are delicious by themselves. Freeze them and you've got healthy hard candy. Put them on the windowsill and they turn to raisins. So, the question becomes what to make from grapes that you have never thought of before. The following are some of our favorite recipes that feature this sweet fruit!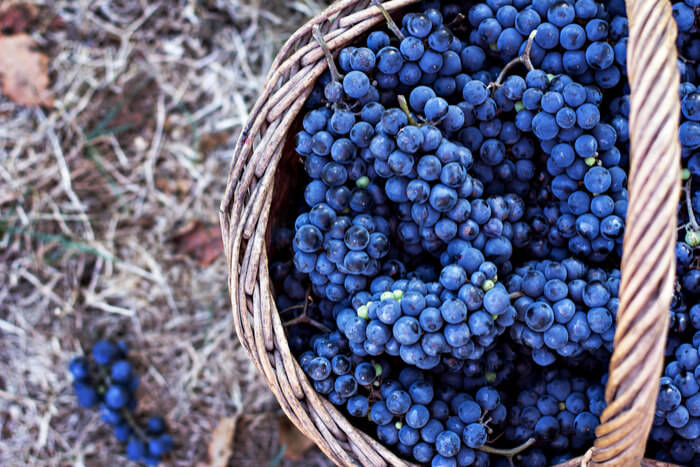 3 Mind Blowing Recipes
#1: Cashew-Chicken Rotini Salad
This delicious lunch or dinner meal will have you begging for more. It's a tasty spin on the original that mixes some interesting flavors.
Ingredients:
16 ounces spiral pasta
4 cups cooked chicken, cubed
1 cup seedless red grapes
1 cup seedless green rapes
5 ounces dried cranberries
¾ cup thinly sliced green onions
1 ½ cup diced celery
20 ounces of drained pineapple tidbits
1 cup ranch dressing
¾ cup mayo or mayo substitute
2 cups salted cashews
Directions:
Cook the pasta to al dente. At the same time, combine the chicken, grapes, cranberries, onions, celery, and pineapple in a large bowl.
Drain the pasta, and fold into the chicken mixture.
Whisk together the mayo and ranch in a small bowl, and pour over the salad. Mix to coat.
Cover and refrigerate for at least an hour.
Stir in cashews right before serving.
Source: Special thanks to Taste of Home for this tasty recipe.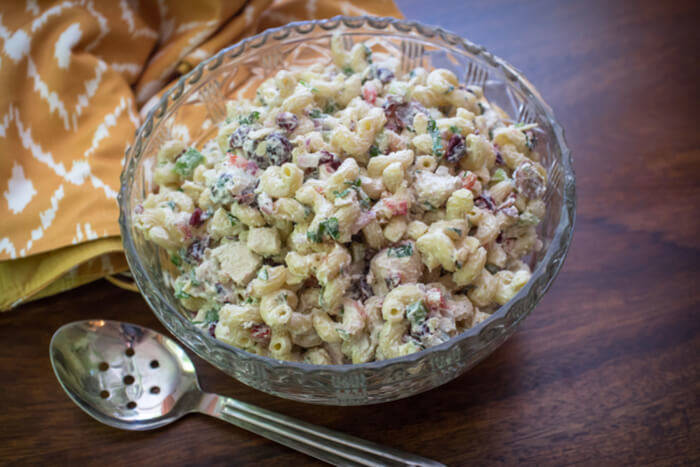 #2: Roasted Brussels Sprouts and Grapes
If you're looking for an interesting side dish, look no further than this recipe. Mixing Brussels sprouts with grapes may sound strange, but this recipe makes it tasty! Not to mention the whole thing looks great. Next time you need a dish for a family get-together or potluck, you'll know what to make.
Ingredients:
2 pounds of Brussels sprouts, halved and trimmed
3 tbsp unsalted butter
2 cups red seedless grapes
2 tsp fresh thyme, chopped
3 tbsp extra-virgin olive oil
1 bunch of scallions, chopped into 1 inch pieces
2 tbsp honey
¼ cup hazelnuts, skinned and chopped
Salt and pepper
Directions:
Preheat your oven to 450 degrees and put the baking sheet you plan to use on the middle rack.
Mix the sprouts with olive oil, salt, and pepper. We recommend a teaspoon of salt and half a teaspoon of pepper.
Take out the hot baking sheet and spread the sprouts evenly.
Put back in the oven and cook for 20 to 30 minutes, flipping halfway through. You want to make sure the Brussels are roasted and charred to your liking!
While all this is going on, you are going to prepare the flavoring. To do so, start melting the butter over medium-high heat in a large skillet.
When melted, go ahead and add the grapes and thyme. It will take about 4 minutes before the grapes start to burst.
When the majority of grapes burst, add the honey and scallions. Turn the whole thing up to high and bring it to a boil.
Reduce the heat to medium low and simmer until the juices begin to thicken and the grapes become glazed. This will take around 1 to 2 minutes.
When the Brussels sprouts are done, mix them with the grape concoction. Sprinkle with hazelnuts before serving.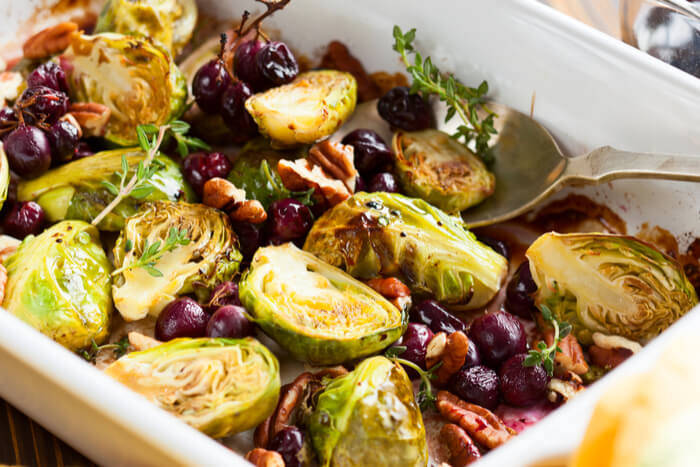 Source: A special thanks to the Food Network for this unique recipe.
#3: Grape Tart
Most of us think about grapes as a dessert. This recipe plays upon the strengths of this sweet fruit to create a tart worthy of a bakery! If you've never had a tart with grapes before, now is the perfect time to try this delectable delicacy. We like to serve this in our log cabin get together.
Ingredients:
3 to 4 cups of seedless grapes, halved (you can use any color, but we recommend simple red and green)
1 cup all-purpose flour
½ cup rolled oats
½ tsp salt
3 tbsp sugar
1 stick of unsalted butter, cold and cut into pieces
Confectioners' sugar
Pastry Cream:
6 large egg yolks
2 cups whole milk
2 tbsp flour
½ cup sugar
½ tsp vanilla extract
2 tbsp cornstarch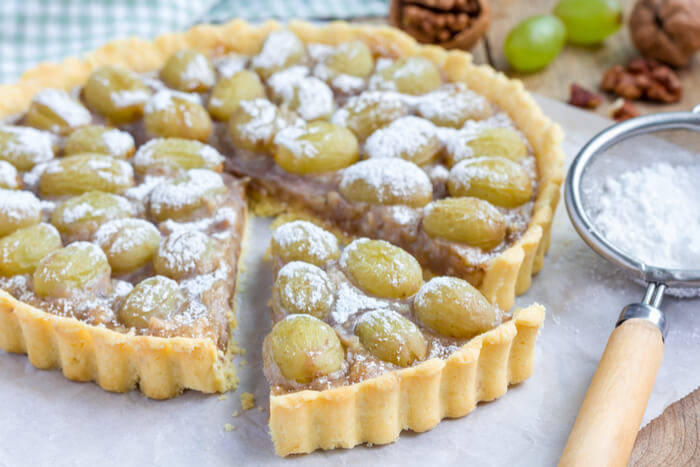 Directions:
Pastry Cream
Using a medium bowl, beat the egg yolks and sugar together until they are light and thick. Once this consistency has been reached, beat in the flour and the cornstarch.
Bring the milk just to a boil in a medium saucepan. Once it has reached the boiling point, slowly add the milk to the mixture in the medium bowl.
Put the whole thing back into the saucepan and bring to a boil. The goal here is to thicken the mixture to the point it pulls away from the sides of the pan. This will take around 4 to 5 minutes. To prevent scorching, make sure to constantly whisk.
When the mixture has thickened, stir in the vanilla.
Get out a rubber spatula, and use it to press the whole mixture through a sieve and into a bowl below. Cover the mixture and cool to room temperature in the refrigerator.
Grape Tart
Preheat the oven to 400 degrees
Using a food processor, pulse salt, sugar, and flower.
Add butter, and pulse again until the texture looks like coarse meal.
Add 2 tablespoons of ice water, and process until the mixture sticks together when you squeeze it. If it is still too dry, carefully add more water.
Add oats and pulse to mix.
When combined, take the dough out and press it into a 9-inch springform pan. Make sure the dough covers the bottom and 1 inch up the sides.
Bake for about 25 minutes, or until the crust is golden brown. Then, remove the sides of the pan and let the crust cool.
Whisk the pastry cream until it's smooth. Then, spread evenly on top of the cooled crust.
Take your grapes, and arrange them on top of the cream. Then, push them down into the cream.
Chill for at least 2 hours before serving. We recommend anything up to 1 day. Dust with confectioners' sugar right before serving.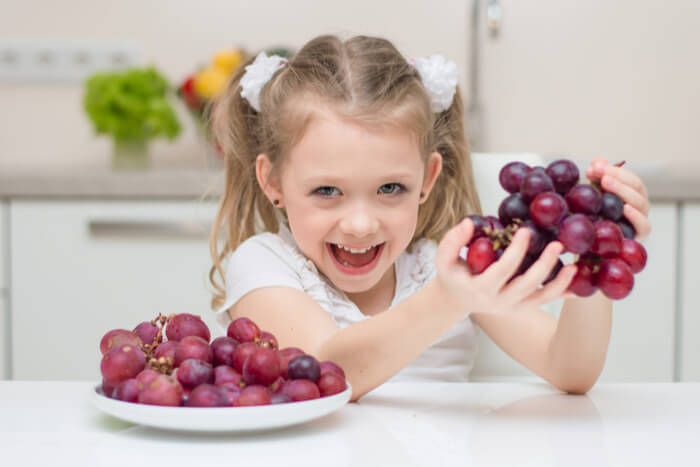 Source: She may have gone to prison, but Martha Stewart still knows how to cook.