Customers reviews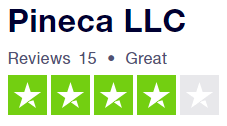 by David
Jul 21, 2018
Repeat Customer, extremely happy one!
I have used this company twice now, first was the 6x6meter carport that order went without any hassle from start to finish. Item arrived quickly and was/is fantastic quality, the delivery company where very helpful and professional also. It's been easy to contact the company for questions, and they have always called me back quickly when they needed to check information. I also recently ordered a small summer house/ Log cabin, again they have been very helpful with our questions and forthcoming with recommendations of their products to suit our needs best. I would have no problem recommending this company to any of my friends or family, therefore no problem recommending it to you. Thank you very much for all your help, and fingers crossed we will be in a position to make the larger purchase early next year.
---

by Dan
May 2, 2018
Another purchase. Happy again
We bought from them once (in UK) and did it again here in US. This time we decided to make a present for my cousin in Atlanta, GA so orderd a tiny home on a trailer. It took two months (as promissed) but finally it was delivered and my cousin says he loves the building a lot. Thanks again Pineca!!
---

by Jen
Updated Apr 10, 2018
Bought a 6m x 6m double garage
Bought a 6m x 6m double garage for me and the missus. It was delivered pretty fast as they promised and Chris put it up in just one day, I was on the phone for 20 min and when I came back half of it was up already! Would definitely recommend Pineca.com, their products and service is great, the staff seemed to know what they are selling.
---

by Jamie
Apr 5, 2018
5 stars
I would highly recommend Pineca.com they deliver great product
---

by Julia Ward
Mar 28, 2018
I found these tiny homes online as I…
I found these tiny homes online as I was looking for a storage shed to put up in my backyard. I found the full size Lincoln logs to be adorable and my husband felt pretty confident doing the installation himself. We had to wait for the shed to arrive for a couple of months but I knew they came from overseas so that wasn't unexpected. Overall, the product is excellent and looks really great in my backyard!
---

by Chad
Mar 28, 2018
Fast shipping
Fast shipping, great product. A+
---

by Indie
Mar 20, 2018
Big thanks
We ordered a garden shed through their website and a week later it was standing in our backyard. It was such a pleasure to deal with staff and the builders team, we were left in awe with the speed, price and quality of this service. It's hard to believe that companies still make the effort to go the extra mile these days. Thank you to everyone who's been involved in the process!
---

by Chris Cleary
Mar 15, 2018
Great prices, prompt delivery, happy overall
The team did a tremendous job in every respect. We had a few small issues in the beginning but they were quickly ironed out by Mantas and I was advised to go for a custom project. I was happy to pay a higher price for something that I had been dreaming about for years. All I had to do was a rough drawing of my dream cabin and the guys took over from there. The product was delivered on time, no issues there. I'm very satisfied with the final finish, it's even better than what I have imagined. Great company!
---

by Samantha Andrews
Mar 14, 2018
Satisfying overall experience
I have found this company online as I was looking for a storage facility to put in my backyard. They offered some nice tiny cabins and one of them looked adorable. I placed an order after chatting online with one of their sales agents. Delivery time was a bit long but at the end of the day I am happy with my purchase.
---