Wooden garages have become the latest design trend to really sweep the real estate market. Beautiful, functional and sturdy, they add immediate value to your home. Part of it is the way they look, as it increases the aesthetic regardless of the rest of the property. But durability it another major factor in its value as wood can be longer lasting and better produced than many of its sheet metal counterparts.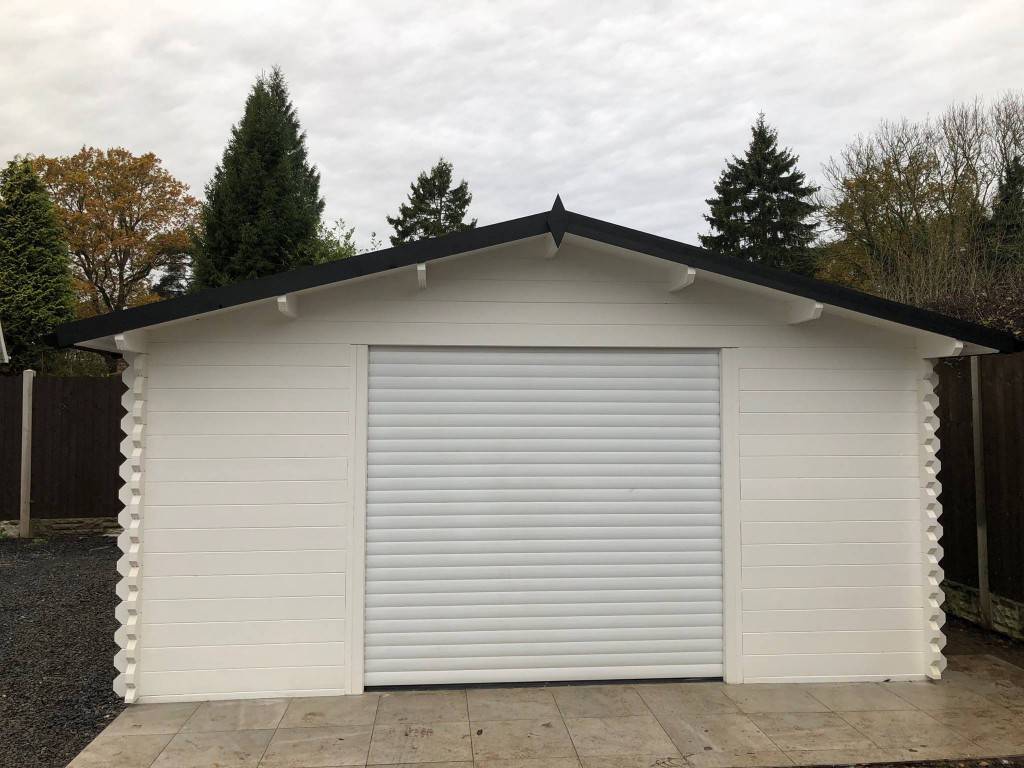 If you are considering purchasing a wooden garage here are some things to consider.
What Will Your Wooden Garage Be Used For?
There is a common misconception among first time homeowners in particular about what it is a garage is used for. Sure, it can be a place to park a car, but it is so much more than that.
For instance, will it only hold one car? Two? Three? Will other projects, such as DIY or mechanical tinkering, be done there? Is it going to operate as a shed to hold tools, gardening implements and other odds and ends around your home?
Knowing what you need beforehand will turn regular wooden garages into multipurpose spaces that can be adapted for any purpose you can imagine. Their versatility is part of the appeal.
If you plan on spending a lot of time in your garage, such as for doing projects, make sure to consider space and insulation. You will want a large enough area that you can comfortably do whatever you need to. However, it also needs to be insulated enough to remain warm in the winter or retain cool air in the summer.
Even if you don't plan on doing more than storing cars or tools there, extra insulation can minimize damage for whatever you choose to store in your garage.
What Kind of Wood Should You Choose
When looking at wooden garages you may notice that they have different types of wood to choose from. Different breeds have different benefits so you should choose wisely. Let's take a look at the three most common selections and their pros/cons:

Plywood - The cheapest of all woods you can use for a garage, plywood isn't the sturdiest material to choose from. It can break through more easily and is more likely to be damaged in inclement weather than other woods. You can choose to increase its sturdiness by adding an additional layer of another wood but it will require extra insulation between the two and may still not be as strong as you'd like. On the other hand, it has the benefit of being common among prefab wooden garages, so is easy and affordable.
Cedar - Cedar is a midrange wood choice well known for its vibrant red or white colors and the sweet, woodsy smell or its bark. You can usually find both prefab and custom built garages using cedar as it is a flexible wood that offers a good balance between affordability and durability. It also offers more value to a home than plywood, because it is a more desireable wood choice.
Redwood - Redwood is not often chosen in modern houses. Not because it isn't a gorgeous and very strong wood, because it is both of those things and more durable than either plywood or cedar. It is just significantly more expensive due to the relative scarcity of Redwood trees. If you do choose this wood make sure you are using recycled lumber, both because it is better for the environment and less costly than newly felled logs.
How Often Should You Restain Wooden Garages?
One major reason that people avoid buying wooden garages is that they require more upkeep than metal sheds. But the work and cost involved is surprisingly light and well worth it if you want to increase your home's value and have a garage that will last you a lifetime.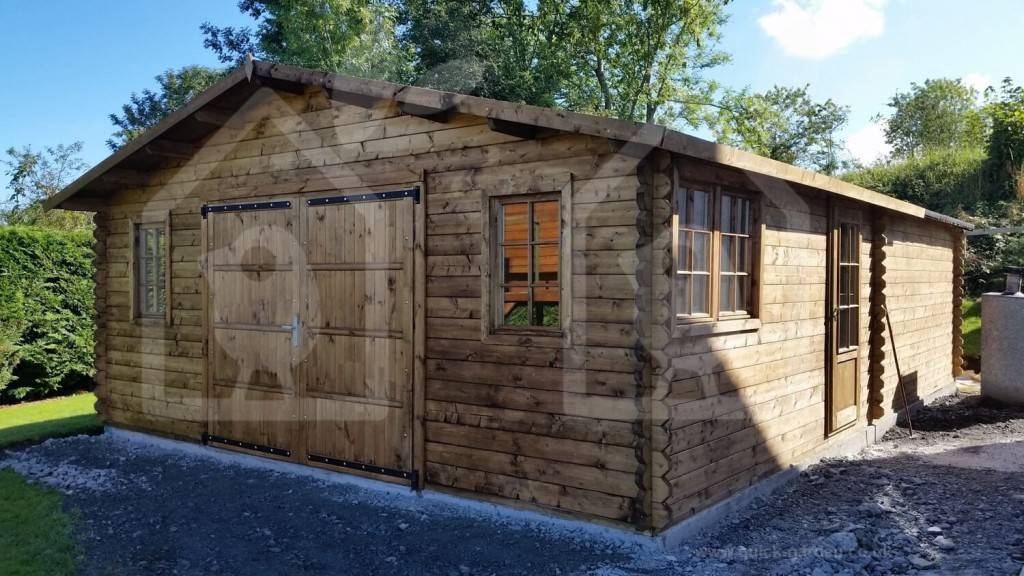 In order to maintain your wooden garage you should restain it regularly. Every five years is the minimum, but every three is better if you want to really protect it against rot, moisture, cracking and pests. This will also keep the color vibrant and looking gorgeous all year long.
Make sure you check your wooden garage each season to make sure no holes or cracks have developed in the wood. Using a stronger wood will help prevent against this.
Is It Worth Spending More Now?
It may be tempting to go with the cheapest possible option and opt for a plywood prefab. While this will indeed add value to your home for a very low cost it may not be worth that in the long run. Paying more now and making sure to properly keep up the maintenance of your garage will pay off by adding greater value and taking up less work for repairs.
Consider this an investment towards the resale value of your house and spend a bit more now to get greater returns later.
What About Apartments Above Wooden Garages?
Another option that can significantly increase your home's value is to create a mother-in-law apartment or guest house extension to your garage. Wooden garages are perfect for this because they are sturdy and make less noise than metal garages in storms and when in use. You can add an extension on top of or behind a garage to make it a beautiful place for others to stay.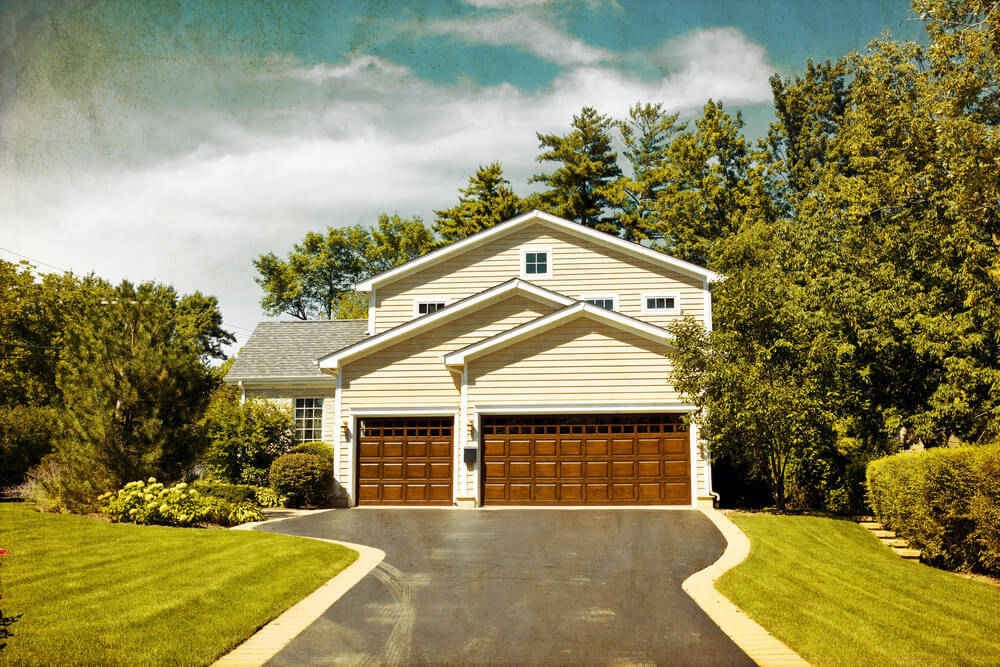 Some other ideas people have had for these extensions are workout rooms, reading nooks and even greenhouses or garden rooms. You would be amazed at the choices you have when it comes to making your garage more functional. Wood is immediately more versatile than metal.
If you ask local contractors who specialize in wooden garages they should be able to show you floor plans and blueprints for these unique split garage apartments and guest houses. They have different sizes and designs, both single and double stacked levels. Some of them are fancier than the houses they are built to fit!
Wooden garages are a fantastic way to give your house a little something extra.