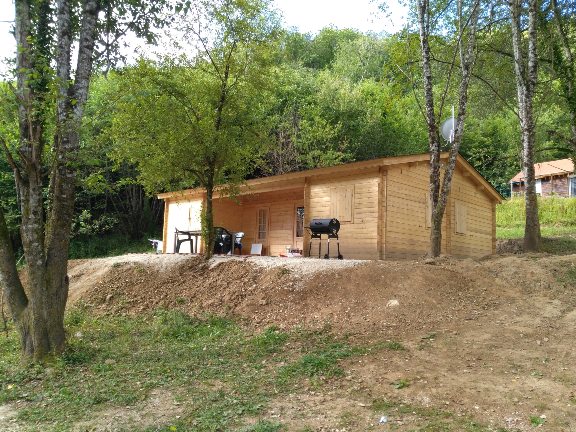 It's been a while since my husband and I decided to have a vacation lodge in the woods and we've come quite a long way to finally achieve this!
To start with, we purchased a piece of land in the woods and started searching for an effectively designed wooden residential cabin that would merge harmoniously with the environment and meet all our requirements. We checked several log cabins suppliers and ultimately decided to go with Pineca. They provided very detailed specifications on the cabin, including scale drawings that we could submit to the local building permit office. The design we chose was the UZES 34' x 23' with 2.6" thick single walls. We slightly modified the internal layout to adapt the cabin to our specific needs. Obviously, we needed to apply for planning permits and it cost us a good deal to go through all the procedures (it was quite time consuming and we did start to become exasperated). However, we persevered and finally received approval to erect the cabin.
We were very excited to finally place our order, and since the lead time for the cabin was almost 12 weeks we had enough time to pick up all the necessary furnishings, kitchenette and bathroom facilities before the delivery. Finally, the date of delivery came. We were more than excited to see how such the skillful driver offloaded several large pallets of wood with a crane onto our land. When placing our order we decided that we'd rather employ Pineca builders rather than trying to assemble it by ourselves.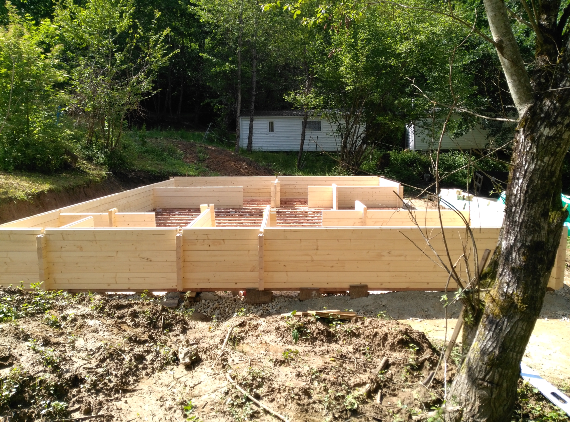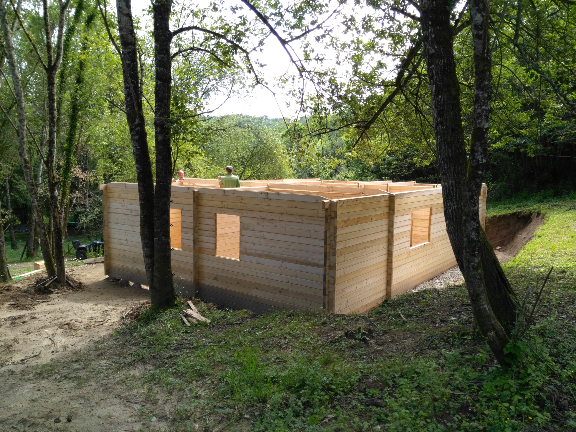 And it was the right decision! The builders were very professional and extremely helpful. when they arrived at our site, they carried out the groundwork for us. They were also exceptional when it came to the assembly of the cabin and putting all electrical wiring and PVC plumbing in. They did an amazing job and it took almost 12 days for them to finish everything. We were overjoyed with the outcome.
The total amount we paid for the builders' services, i.e. groundwork, installation of the cabin, electrical installation, and PVC plumbing (including fitting of 5 units – 3 wash basins, a shower and a toilet) was roughly $17,500.
Obviously, all the bathroom and kitchen units were supplied by us. The builders also agreed to fit a kitchenette for us with all our electrical devices at an extra cost of $2,400, which was very kind of them. They also put in a septic tank for us at $2100. They also applied a basic treatment to the timber for $1200.
We had to invest in some furniture and basic facilities, so the total outcome after everything was finished was the following:
Kitchen and dining area
Kitchenette with several cabinets and drawers, 1 wash basin and a cabinet for the wash basin, 2 cabinets with shelves, a worktop, electric cook top and a chimney range hood cost us around $2,800.
We bought a very simple dining table and a lot of chairs as we have a large family, but it did not cost us a lot.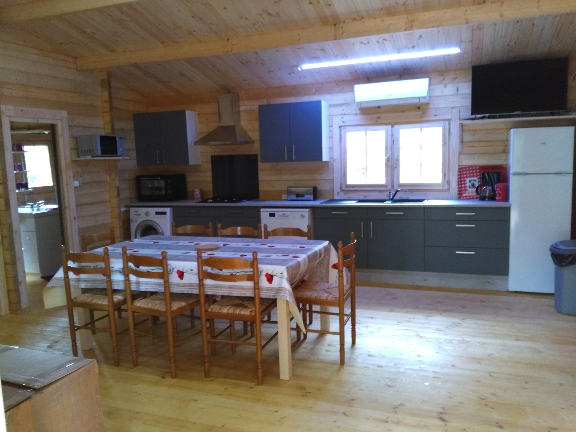 Bathroom and toilet
It cost us around $2400 to equip the bathroom and the toilet room (a washstand with double wash basin, a mirror, a shower enclosure, a shower tray and a shower, a toilet, all the basic accessories).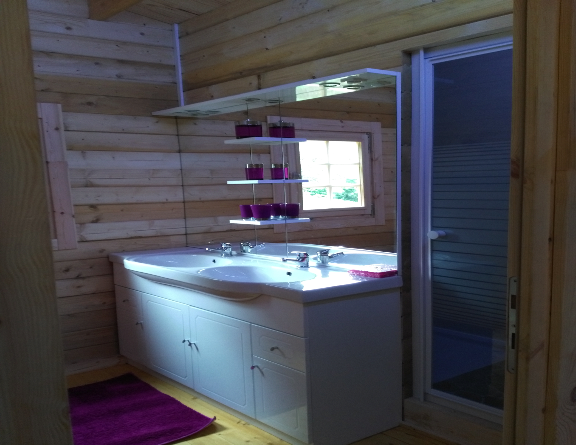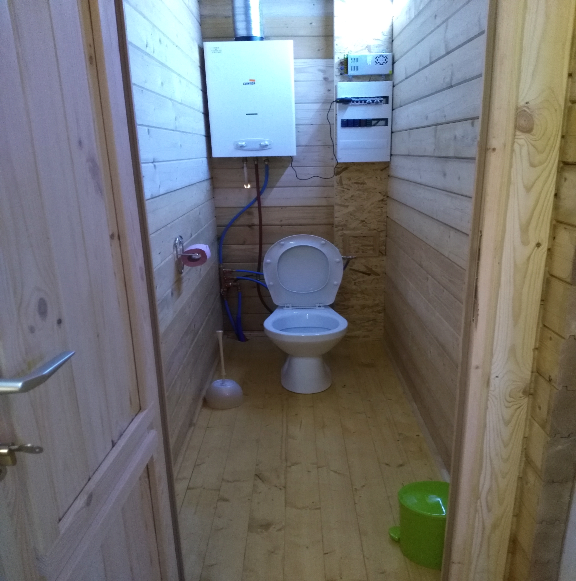 Bedrooms
We decided to stick to a minimalistic, natural style so the beds, the chests, and the closet are natural wood. It cost us around $1800 to equip the bedrooms.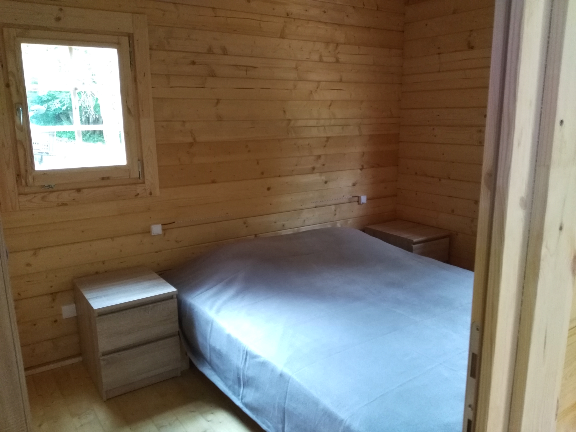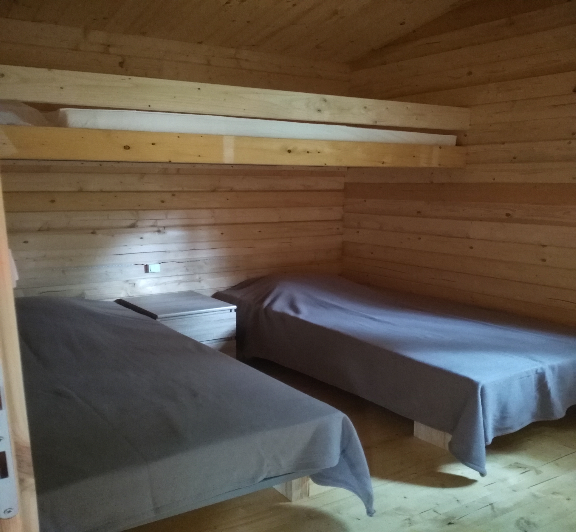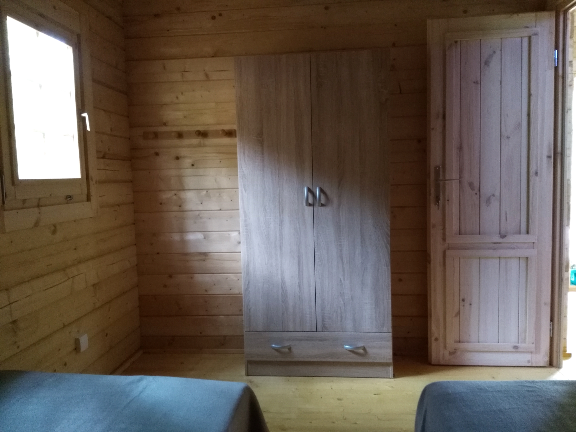 All in all, we paid around $52000 for the residential cabin with roof covering, extra services, and all the basic facilities and furniture (excluding electrical devices) you need in order to convert several piles of wood into a comfortable liveable space. Currently, we stay in our vacation lodge from spring till late summer, until it gets really cold. We are also thinking of installing a log burner or electrical heating inside to make it possible to spend Christmas and New Years there. We're even thinking about the idea of making the cabin our permanent future home, but we'd need to think about insulating it in that case. So, the best is yet to come!