Log cabins can be a lot more than something simple. They can be a work of art, something with character that feels like it is alive inside. How can you do that? By using metal and glass to add to the log cabin's allure. Often, cabins are an escape from the world, from your life, they are where you take a break, unwind and get away from it all. So, you need to put some thought into what you are going to do so you can rest and relax when it is all done!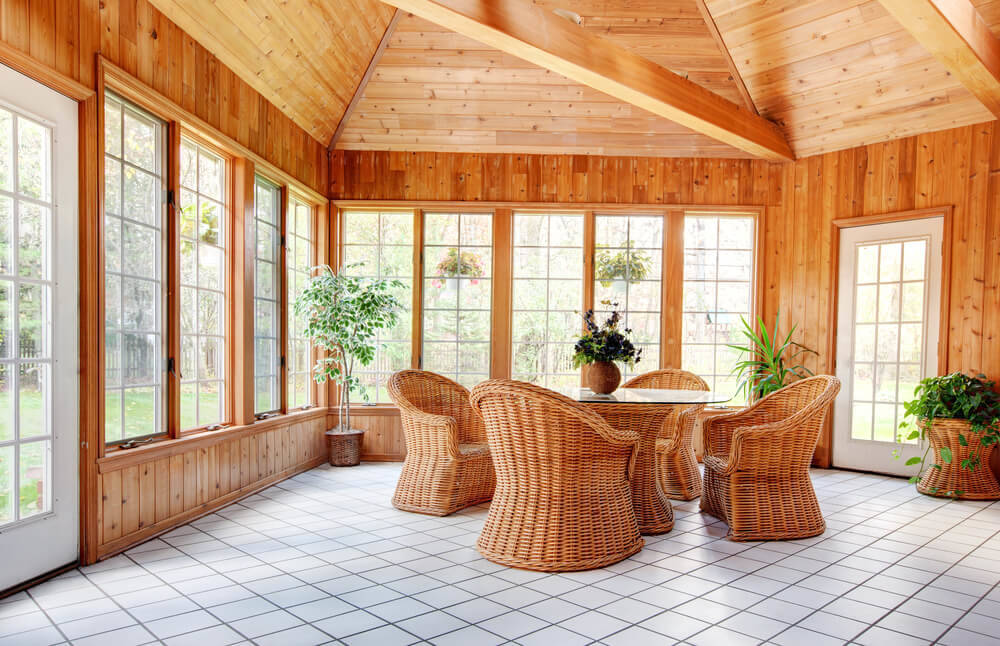 Glass can be used to bring in natural light. Consider where the sun faces in the morning and where it falls in the afternoon. If you like the sun, but the more massive windows facing where the sun is shining. Remember though, if your significant windows have the sun pounding through it can get hot. If you want the log cabin to be more relaxed, use smaller windows on the side where the sun is.
An idea for what window to get is a casement window. For those wondering what that is, it is a window attached to a frame by hinges, often swinging outside. Casement windows can rotate left or right and up and down. They can be latticed to make the room more attractive.
Glass tables can put a touch of modern design into your log cabin (check there log cabins). When deciding on a glass table, make sure it is something you will look after. Don't go buying a glass table if you think you will break it. A glass tabletop with the right frame, a frame that complements the cabin can go along way to making it feel like a home.
If you like entertaining, get some good quality wine glass. They can be used to serve wine, apparently, but also are decorations. Quality glassware adds to the sensation that you are somewhere special where you want to stay.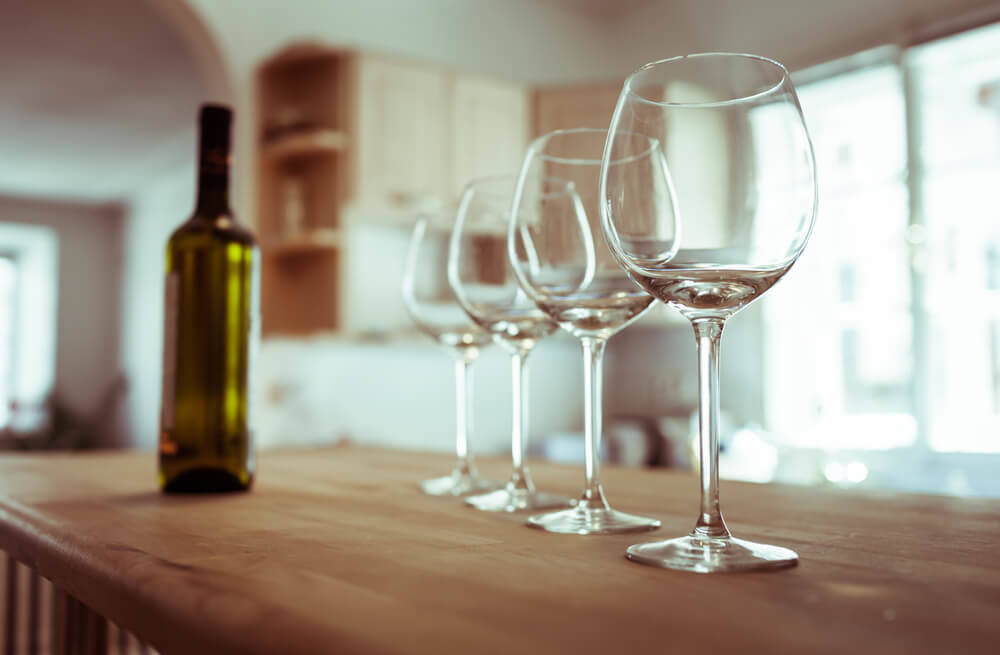 Glass sliding doors can be surprising to let extra light in, to open up and make a breeze enter in, or just to sit inside and watch the environment outside. If you choose a sliding glass door for your log cabin, find some blinds or curtains to block out the light when you do not want it. Moreover, remember that if the glass is facing the sun, the cabin will heat up quickly so consider air conditioning or putting the sliding door on a different side.
Now, you might be thinking it is a good idea to get double glazed glass for your windows. This is not needed as the roof helps to lose 25% of the heat, and the floor gives out 10% of the heat. Cracks, poorly made cabins and lousy corner connections add a lot to the inability for a cabin to maintain temperature. Consider what glass you need, so you do not waste money.
A clever use of glass could be to make a play area for the children. You can relax outside with your barbeque or sit on chairs having a drink while you watch your kids playing in a glass area. As is said above, air conditioning is likely needed, but your kids will enjoy having their space and privacy, and you can keep an eye on them.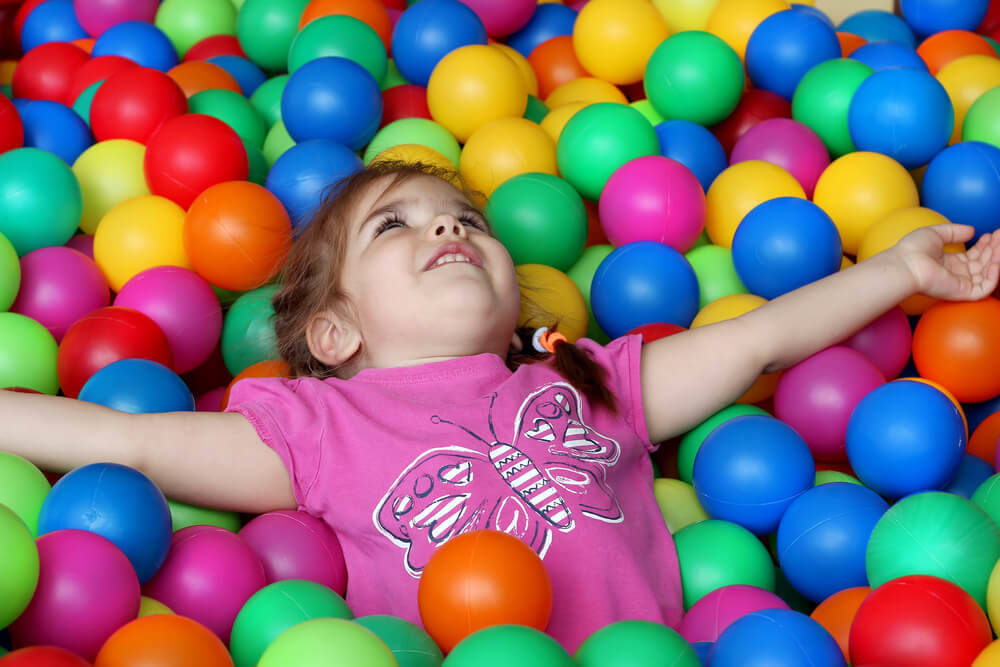 You are likely to need shelves, and glass shelving can be a creative and unique look. This look is modern and unlikely to work with a rustic image. However, how you design your log cabin is up to you.
With metal, there's a lot of creative things you can do. If you want a fireplace or an electric fireplace, you can use the old wrought iron fireplace to add a rustic touch. Think of the old style fireplaces in western movies, the look, and feel of the cabin. The fire can make you feel like you have gone back in time, and it adds a lot to the sophisticated design. Some types of metal you can use include wrought iron, brass, bronze and silver.
Hanging lights and chandeliers can help to add a rustic, sophisticated or classic touch. There's a range of styles that you can choose from, from the older style that would go well with a rustic fireplace to something newer. If you are exceptionally creative, you could turn tin cans into lights.
Going to antique stores can be a gold mine for unique metal items. Let's say you are going for a traditional rustic look; a wrought iron bed would be a perfect addition to your cabin. Metal lighting can go outside, like some iron lanterns. Consider door knobs and handles for drawers and cabinets. If you are going for a rustic look, the right colored metal can add so much to the character of the cabin. Plus, metal lasts longer than plastic, so it is less likely to break and need repairs.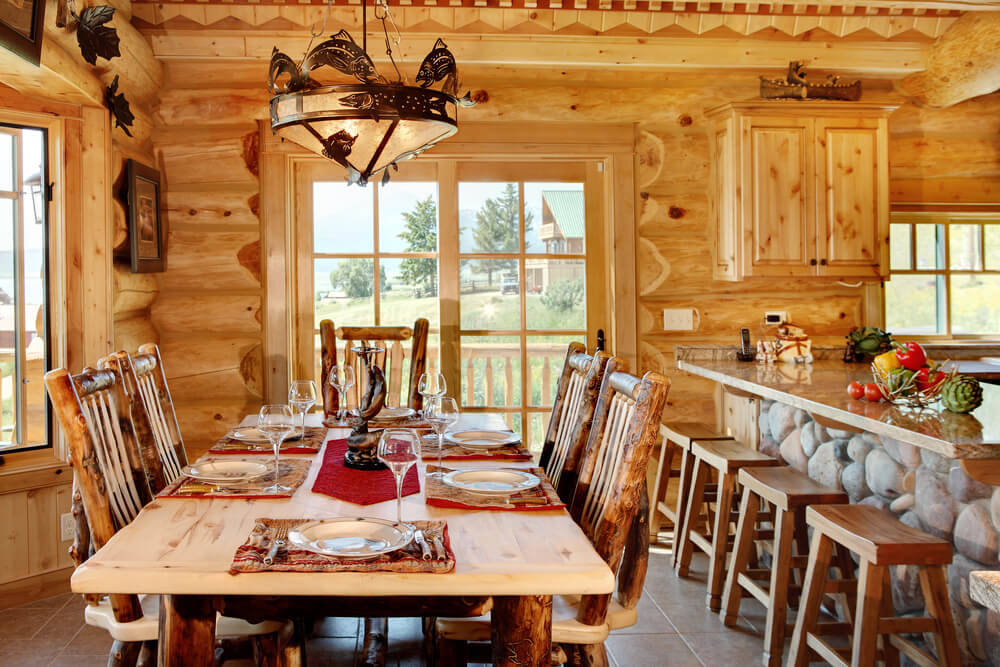 Alternatively, maybe you want to use metal for a more contemporary image. Getting stainless steel fridges, microwaves, stoves, kettles and other appliances can give people a surprise if they visit. A beautiful, comfortable log cabin and inside something fresh and new for you to enjoy.
A metal staircase is perfect for a log cabin if you are going for the rustic image. The stairs can lead to a second floor or a loft.
Something you can do for Christmas is adding brass ornaments to the log cabin. Why not decorate your home away from home with something stylish, not cheap plastics. Brass ornaments can last longer and be used year after year.