When it comes to flowers that are easy to grow and ones which will enhance the look of log cabins, the answers are pretty standard. Many people think of marigolds, sunflowers, zinnias, and the likes. While they are not wrong in doing so, they limit themselves to too few options. Many varieties that are out there can shake up the look of your garden, and give you an edge over what is in almost every yard. They are easy to grow and are thus suitable for all gardening levels. What's more, they are easy to care for and will not give you a hard time. And the icing on the cake is that they are unique. Hardly will you find these flowers in more than one garden per strip. Are you ready? Here are the seven types of flowers to grow: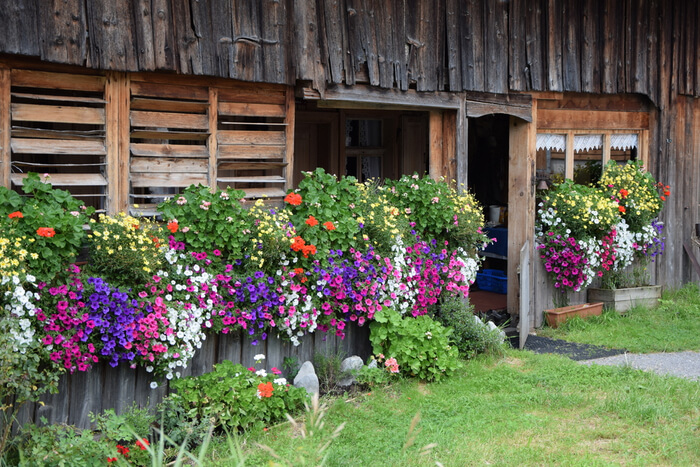 Basket Flower
Suppose you have alkaline soils and wish to plant flowers without amending the soil, this is a great option. It also goes by the name Centaurea Americana and is a known source of food for bees. It blooms in the late season and is available in the colors lavender and white. For best results, have this plant in well-draining soil with partial access to the sun.
Clarkia
These flowers go by a myriad of names, most notably farewell to spring and mountain garland. They are annual and appear quite delicate, though this is not the case. They can tolerate changes in temperatures which makes them great for places with harsh conditions. With these flowers in your yard, you can make lovely crowns all year round with the colorful spikes. The colors range from red to orange to white to purple to pink. The good thing about this is that you can have all the colors in one place for added aesthetic effects.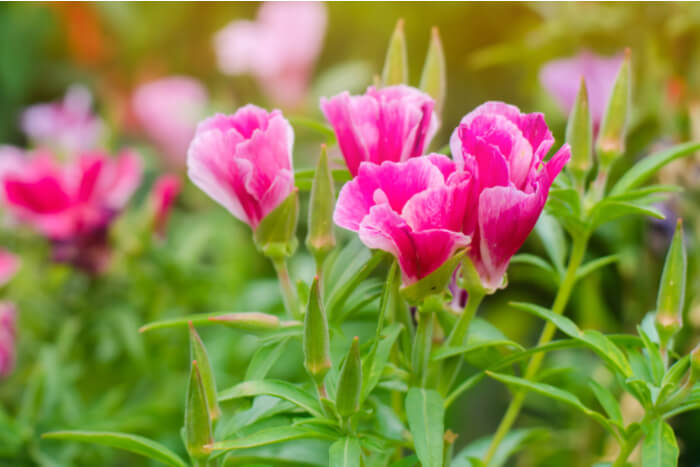 The planting of these flowers is quite easy and you can start from the seed stage. Ensure that you do so when the temperatures are cool to guarantee a fast germination rate. The flowers open in the morning and close towards the evening. Give them access to well-draining soil, some shade, and adequate water and they will thrive.
Viscaria
This annual also goes by the name catchfly owing to its sticky sap. It is available in the colors blue, red, white, pink, and lavender. The upside of planting it is that you spend minimal time in caring for it. It can easily resist the effects of increases in temperature and does not need much water to grow. As long as you water the soil when it dries out, this plant will do great. It can grow to heights of twelve inches under the right conditions.
Ptilotus
Pronouncing this flower variety's name might prove to be hard. If this is the case, you could always refer to it as the lamb's tail, as it does resemble one. It features a pink hue with feathery parts that make it quite the eye-catcher in the backyard. This perennial does well in zones nine through to eleven. However, you could be like most gardeners and have it in your garden throughout the year. It has a silvery hue, which enables it to resist harsh weather conditions. Thus, if you wish to grow this flower in dry and hot conditions, you can do so without fail. This flower will thrive in regions with full sun exposure as well as well-draining soil. Also, enriching your soil with fertilizer is not recommended as this curtails its growth.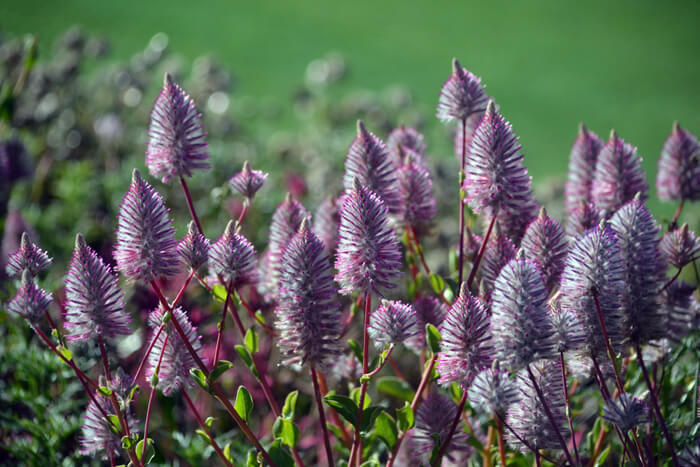 Nemophila
With this flower, you have tons of options from which you can choose, depending on the aesthetics that you have in mind. The baby blue eyes is a good option thanks to its lovely blue blossoms featuring white centers. Or you could opt for the total eclipse with black flowers. The five-spot is also an excellent option as it features a lovely combo of purple and white. Any of these varieties will do well in areas with well-draining soil. Additionally, they require moist soil throughout the year as well as access to the sun for blooming. Note that the flowers are delicate and you should thus be provided with partial shade to ensure that they thrive.
Rhodochiton
This annual vine is quite easy to control, which makes it great for use in limited spaces. Whereas most annual vines will give you a hard time by outgrowing their trellises, this one will not. It grows at a moderate pace which you can control as you deem fit. Additionally, it is easy to prune, allowing you to give it shape from an early stage. Starting this plant from seeds can take more than a month. Thus, you can begin with transplants where you wish to see results at a fast pace. In cold climates, germination may take longer.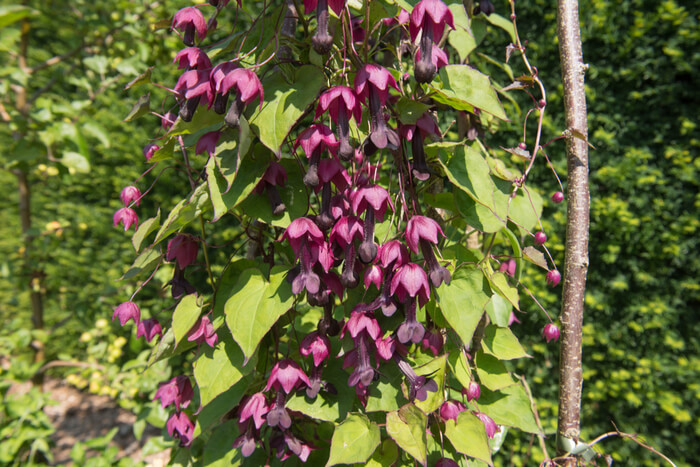 However, you can work around this by starting the seeds indoors. Also, having the seeds in a sunny spot will enable them to sprout early. Once they come out, move them to a partially shaded spot with moist soil to allow them to thrive.
Night Phlox
You would think that a plant as beautiful as this would be in almost every garden in your area. However, that is not the case as it is quite scarce. For some reason, people have overlooked this sweet-smelling variety in favor of the more common flowers. So delightful is its smell that some people describe it as the scent of warm cookies. Who does not want that smell wafting into their house periodically throughout the day?
Plus, they are easy to grow. All you need to do is to get the seeds and place them in warm and wet soil at a depth of less than an inch. In less than one week, they will have sprouted, and you can thus start caring for them. They can grow to heights of twelve inches and are quite hardy such that they don't require much shade. Having them around log cabins allows you to enjoy their sweet scents in the evenings when they bloom.
With these flowers, you will have an easy time during growth and maintenance. Also, your garden will be quite different from the norm, giving you an edge. What do you think?