Who says interior decorating has to be difficult? We certainly don't! If you are looking for easy and cost effective ways to change up the inside of your wooden house, you have come to the right place. Here are our top 14 stupid easy interior decorating ideas that can remake your home.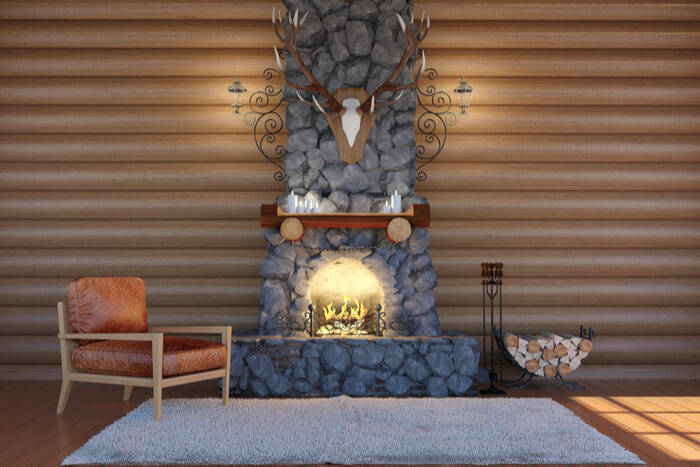 14 Simple Interior Decorating Ideas for the Home
Idea #1: Lampshades
Changing the lampshade can change the look of a whole room. Don't believe us? Try it yourself. If you don't want to waste what you have, cover it with wallpaper. If you can't find one you like, purchase a cheap plain one to cover. That way, you can get exactly the design you want to start, or complete, your room makeover.
Idea #2: Mix and Match
This could be referring to almost anything. In this case, we are talking about kitchen chairs! Mixing and matching chairs to sit around your table can be fun. Not to mention it's much easier to find single dining chairs on sale! This is a great way to replace your less than optimal seating without having to shell out cash for a whole new set.
Idea #3: Green It Up
Adding greenery to any room can spruce it up! Even if you don't have a green thumb, you can buy cacti and succulents. Spider plants and other air purifying plants are also easy to take care of. Hanging plants add a new dimension to rooms as well. We love the idea of having a green room. Try the bathroom for humidity loving plants!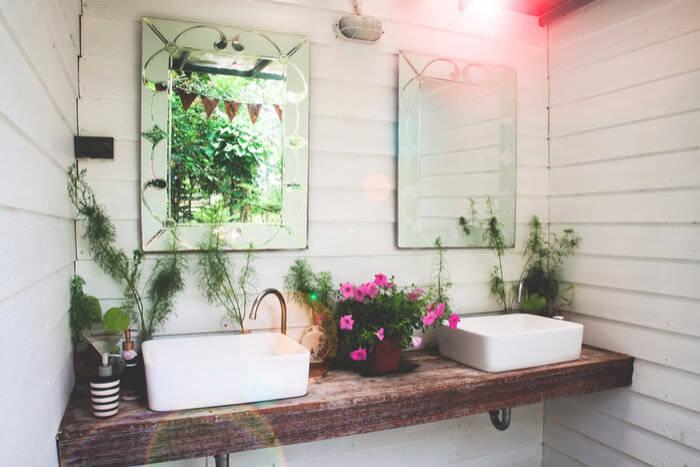 Idea #4: Change Your Shades
Roman shades, translucent curtains, black out curtains, bamboo blinds, regular blinds, and everything in between! There are a lot of ways you can change your shades. There are so many different patterns and textures, you could transform your rooms in any number of ways.
Idea #5: Change Out Your Bedding
While changing out your bedding is an easy thing to do, it can make a huge difference. Anyone seriously interested in redecorating their bedroom should choose different colors than before. You can even use your new comforter as the inspiration for the rest of the room. Or, choose a theme and pick out bedding from there!
Idea #6: Slip Covers
Slip covers are fantastic. They are less expensive than buying a new couch and chairs. Not to mention there is a wider range of colors, patterns, and textures available today than ever before. This low maintenance, low cost alternative to new furniture pays for itself. Don't forget, you can do this with bedroom furniture and chair cushions as well.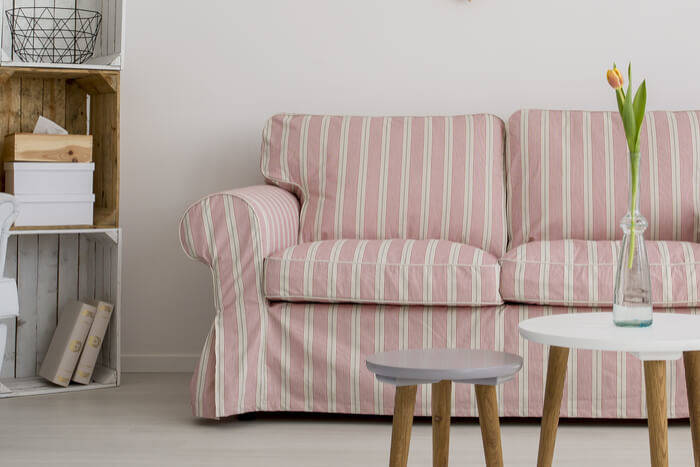 Idea #7: Add Open Shelving
Most kitchen cabinetry is closed. You can't see what's inside. One way to make your kitchen look more open is to open up the shelving. Keep in mind this will only work if you can keep a reasonably clean and organized space. Open shelves will not look good if they are cluttered. Paint them a darker color than the wall behind to really show off the space.
Idea #8: Separate Rooms with a Curtain
If you are looking for a bohemian way to separate rooms, look no further than a luxurious curtain. You can use one or two in the doorway. Just make sure to get some ribbons to tie them back when you want a straight shot through the rooms. You can even purchase or make a beaded curtain if you are channeling your inner beach day!
Idea #9: Organize Your Bookshelves
There are many fantastic uses for bookshelves when interior decorating. However, we are going to limit our discussion to one of the coolest: organizing your bookshelves. It might not seem cool right now, but you can make it so! There are a few different ways you can use this versatile piece of furniture.
Show off collectibles
Color code items
Display case
Color code books
Human interest piece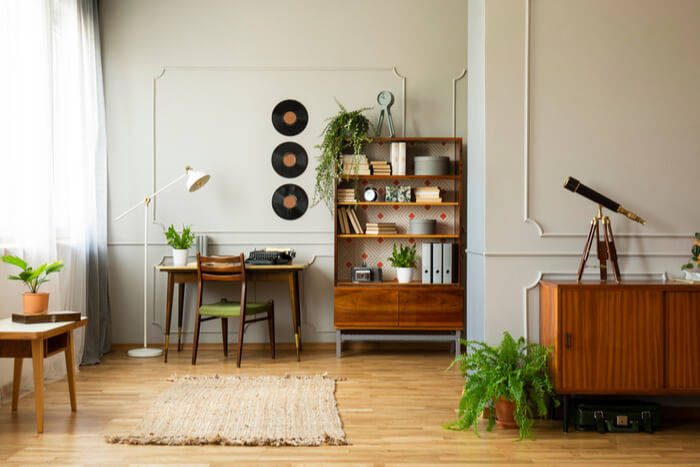 Idea #10: Add a Second Coffee Table
If you already have a large coffee table, think about replacing it with two small coffee tables. If you already have one small table in your home, add another. It can be the same or different, as long as it fits with the overall interior design.
You can even play with heights. Or, make sure they are the same size and connect them. Who knows, maybe you will add another one. That would be truly unique. If you have a wrap around couch, why not a wrap around 3 piece coffee table?
Idea #11: Hang Your Furniture
Hanging chairs and hammocks are back in style! A hanging swing can also be installed indoors! So why not incorporate this popular theme into your interior décor? A strange corner would be a perfect place for this. So would your green room. A bedroom is also a fun place to hang any of these things. A high window area will make you feel as though you are outside!
Idea #12: Change Your Towels and Shower Curtain
Switching towels and your shower curtain can make a huge change in your bathroom. Swap colors, patterns, and textures. For even more of a change, add a new rug in front of the tub.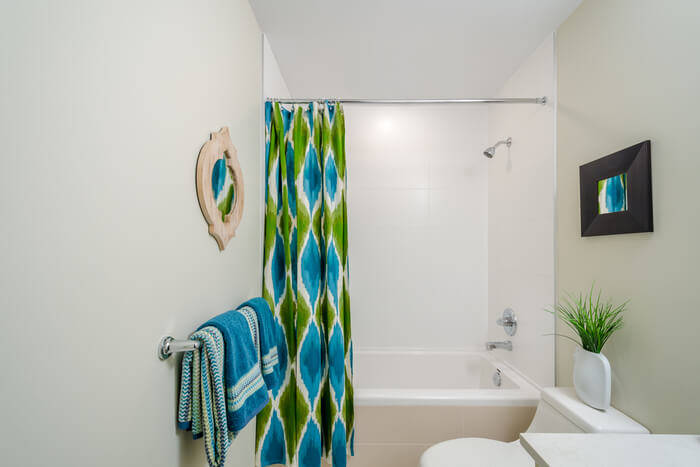 Idea #13: Switch out Handles
This refers to handles on your cabinets. There are many different shapes and colors out there, so you can really upgrade the look of your kitchen. Not all knobs are cheap, so purchase just a couple of each kind to try out in your area.
Idea #14: Layer Artwork
Layering artwork gives three-dimensional appeal to one-dimensional works of art. It can become new art in and of itself. You can focus on the themes of the photos, but we recommend focusing on the colors. You want them to work to tie together a room, not steal the attention from it. If you have a mantle, this is a great place to show off your layered art!