The winter months are a great time to redecorate your sleeping area. This month, we are bringing you our favorite bedroom interior design tips and ideas. Hopefully, you find these as useful as we did when we were redecorating!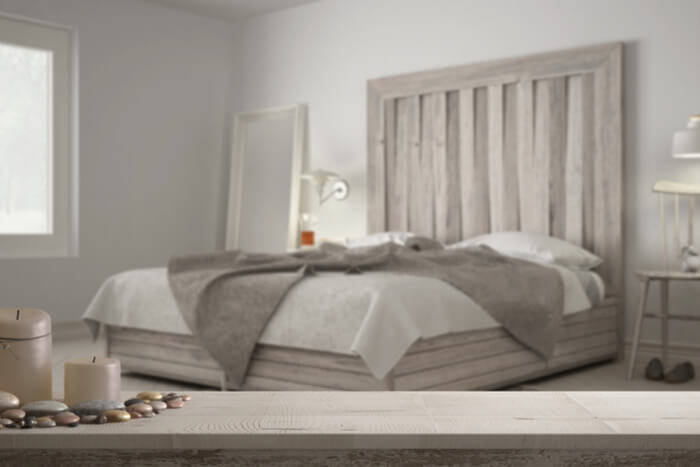 Bedroom Interior Design Tips
Tip #1: Choose a Color
One of the easiest and least expensive changes to make in your bedroom is the wall color. Although it is tempting to go bright and bold, we recommend a subtle color. Why? If you are sleeping in the room, you want to feel relaxed upon entering. Color has a lot to do with that.
Monochromatic tones are perfect for bedrooms, as our gemstone colors. Lavender, light greens, topaz, mauve, and lighter browns are all great examples. If you have a favorite bold or bright color, choose something in the same line. Only calmer!
Tip #2: Take on the Ceiling
Most people leave the ceiling alone when they are remodeling. This is a mistake, because the ceiling plays a part in the whole feng shui of the room! Without a coat of paint or some décor, the ceiling is just a forgotten fifth wall!
To change that, there are a few different things you could do. Paint it the same color as the rest of the room, add a lighter color to the ceiling, or add a pattern. This could be done through freehand painting, stenciling, wallpaper, moldings, or a nice canopy over your bed.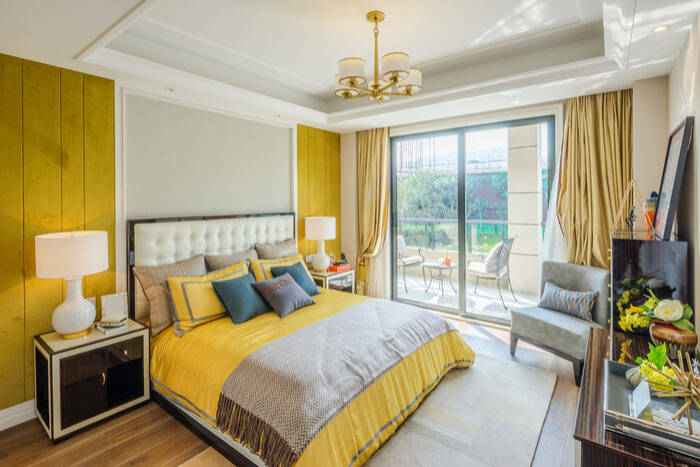 Tip #3: Lighting
You want the light in your bedroom to be bright enough when you want to read, yet dim enough when you just want to relax. The best way to accomplish this is adding multiple lighting options to your bedroom. This is called layering the lighting.
Accent lights soften the walls, while direct lighting such as lamps are great for reading. If you read in bed, check out a lamp with an arm. Adding lighting? Make sure there is a dimmer option. It's also nice if you can pull off a separate on/off switch for each of your bedroom lights.
Tip #4: Don't Crowd
A bedroom should be cozy, not crowded. Over time, we accumulate so much stuff it can be difficult to find a place for it. Regardless, it is important not to put too many items in the room where you sleep. The cluttered look causes anxiety and it can be difficult for some people to fall asleep.
The bedroom should only contain what is necessary: a bed, bedside table(s), a dresser, and a chair. Your chest of drawers should be placed in a closet if there is space. Even accessories should be kept to a minimum. A piece of art, some candles, flowers, a mirror, and leave it be!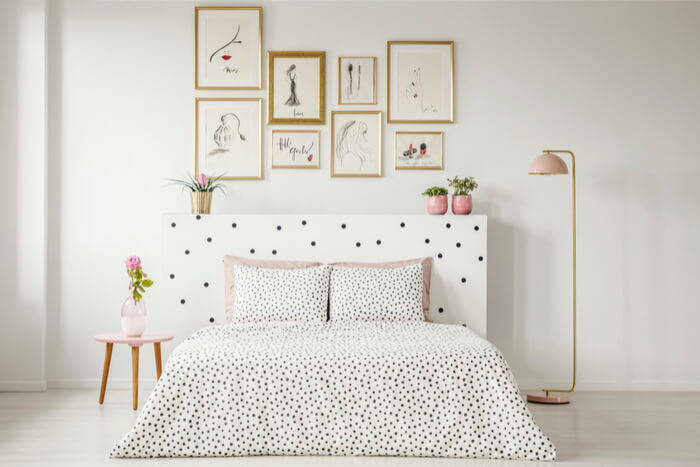 If you have a desk where you do work, you should not put it in the room where you sleep. It is best to do work in a room where you don't sleep. The anxiety you might feel will wear down your vibes of the room.
Tip #5: Correct Furniture Size
When choosing furniture, there should be enough room so you can easily move around the furniture. You have probably seen bedrooms where you could not conveniently maneuver around the room. It's annoying, and it looks bad. That is why it is so important to fit your bedroom furnishings to the room size.
To decide what you need, measure the room. Draw a floor plan and place what you want where you want it. Measure the biggest and smallest that would look okay, and take those numbers shopping with you.
The ceiling should also be taken into consideration. The taller it is, the higher you'll want your headboard and accessories. The larger the room, the more furnishings you can get away with. If you can't live without an ottoman, get one. How about a large chest placed at the end of the bed? Upgrade the chair to a love seat.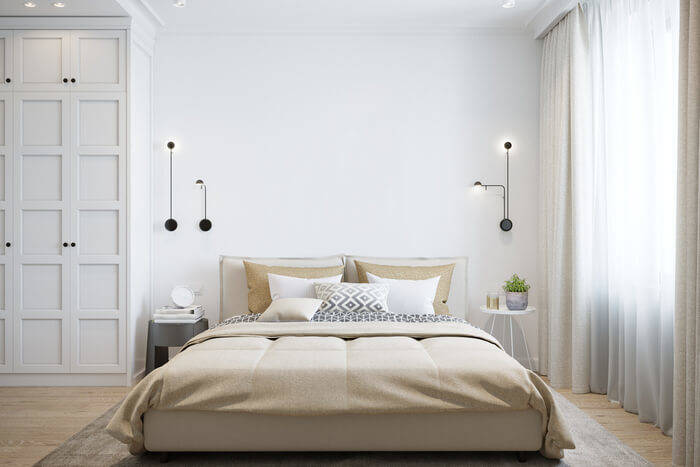 As you draw this plan, also keep in mind how far apart your furnishings should be placed. You want 3 feet between the bed and the walls on each side. In addition, keep the bed 3 feet away from large pieces. There should be 2 feet between the bed and smaller furniture, minus the bedside tables and the end-of-the-bed décor.
Tip #6: Decorate the Windows
What type of curtain do you want? There are so many on the market, and you can find pretty much anything you love online. See through is nice if you like the morning sun to shine through. Black out curtains are fantastic if you hate the light of day, or if your neighborhood has bright streetlights. You can also add blinds, or drapery lining.
Tip #7: Add Pillows
Pillows are a fantastic way to change the interior design of your bedroom. You can purchase them in multiple colors, designs, shapes, and sizes. Whatever kinds you choose, we recommend you pile them on! Not only does this create a comfortable aura, it also makes for a comfortable night's sleep!
Tip #8: Do Something with the Floor
Think about the floor you currently have in your bedroom. If it is hardwood, do you want or need to use rugs? If you have carpet, will rugs brighten it up? However, what you want to do with the floor is completely up to you. If you have a large space without many furnishings, a rug might be just what you need!
Tip #9: Use Patterns
If you love a pattern, run with it! This is especially true if you have no idea where to begin your interior design changes. Floral prints, landscapes, media, and any other bedspread can prove to be great inspiration. The key is to incorporate the pattern in the room places besides the spread, but not too many that the room looks tacky.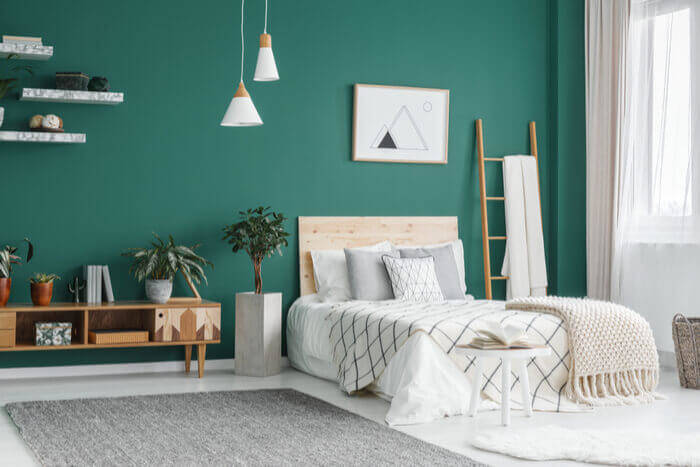 Pineca is a manufacturer of various wooden garden buildings not only for storing but also for living. Wishing to find out more about their production - visit the website here.