A log cabin is a dream home for many. It is a beautiful house, made of beautiful material, that can be given down through generations thanks to its sturdy build. With such an investment it is best that you make it 100% your own. That means customizing it to fit your preferred tastes, from the large main room to every tiny bit of closet space.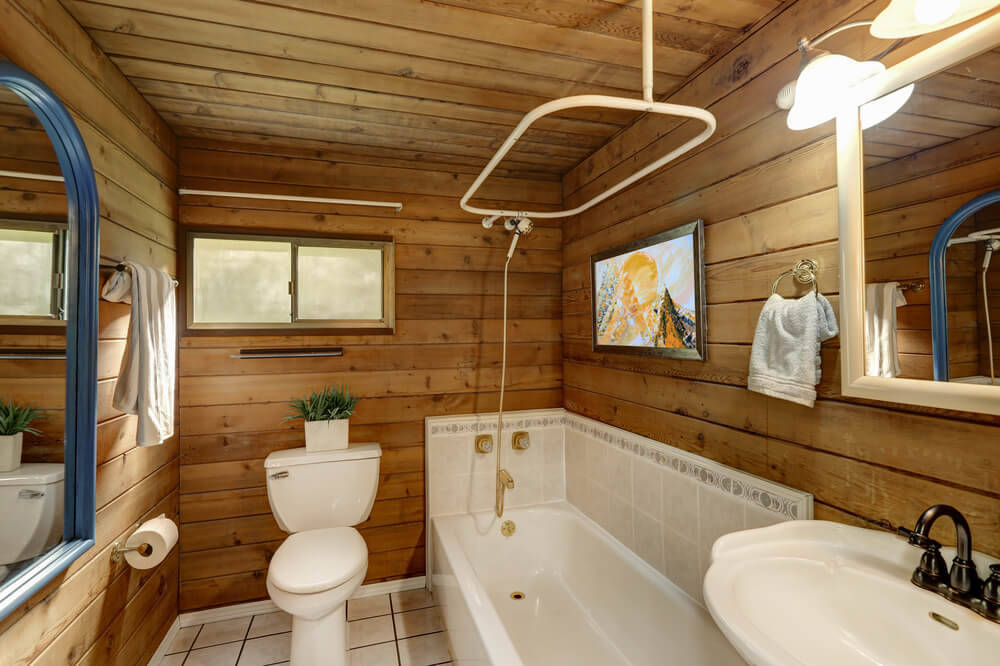 The bathroom is one area that is so often neglected. Yet it is a perfect opportunity to increase your home's value while giving you a sense of completion with your design. If you want the perfect bathroom try these five tips.
Log Cabin Tip #1 - Install Heated Floors
Log cabins have many benefits but they can get a little drafty. Extra insulation in the walls can help with other parts of the house, as can rugs or carpets that trap heat and protect your bare toes from feeling the chill. But what about in the bathroom, where you have tired flooring and less insulation to keep you warm?
An excellent option is to get heated flooring. It may sound like an expensive luxury, but it costs a lot less than you might think. Installation and materials come out to between $400 and $700, with an average of around $600 for most jobs.
This makes such a huge difference in comfort. Just imagine walking into your bathroom first thing in the morning in the middle of winter and feeling the heat sinking into your heels instead o the frigid ice of tiles that you are used to.
This can add a lot of value to your house, as well. It is one of those amenities that people don't see often but will see as a real cherry on the cake.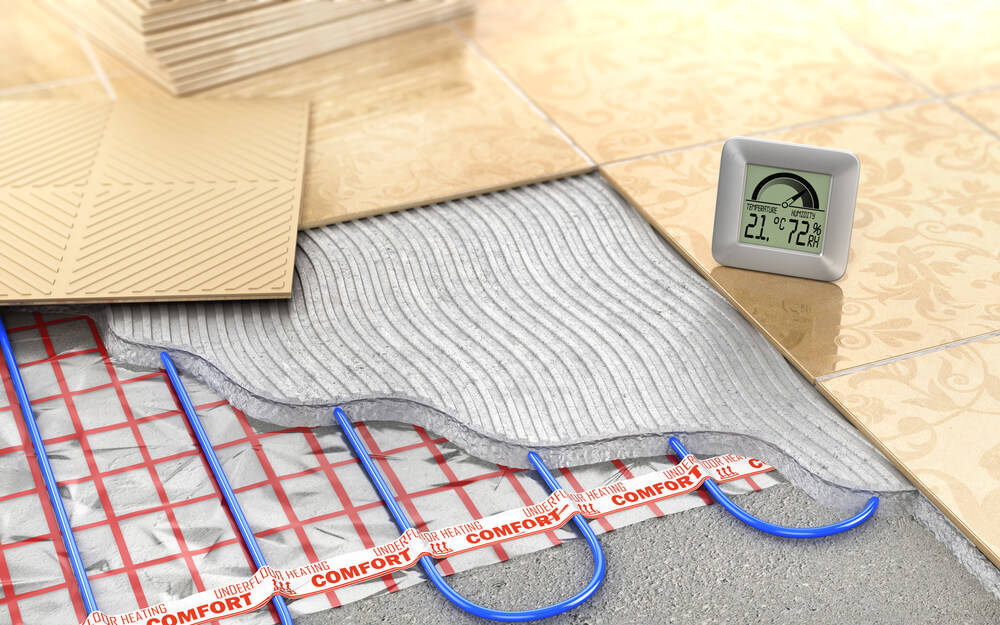 Log Cabin Tip #2 - Go With a Big Mirror
Bathrooms are generally small spaces, being the tiniest rooms in the house. Because you have to fit so much in there it can look cramped even without a lot of clutter. How do you make it seem a bit larger without putting on an extension or magically increasing the dimensions of the inside? You add a large mirror!
Mirrors reflect the space of a room and make it look much larger as a result. The bigger the mirror, the more space is being reflected back and so the less cramps it looks. When paired with white walls this is especially effective and it gives it a clean and modern look to boot.
Installing a large mirror that takes up an entire wall is a great way to give you that look of empty space in even the smallest of bathrooms. It is also inexpensive and easy to do yourself.
Log Cabin Tip #3 - Invest In a Heavenly Bathtub
Taking a nice, long bath is one of the most comforting feelings in life. Imagine doing it in an incredible bathtub complete with a comfortable backing to lay your head, high sides to contain more water and maybe even some jets to work out sore muscles after a long day. You could maybe even share that bath with a special someone if the dimensions were large enough.
Investing in an awesome bathtub is one of the best ways to spend your bathroom budget. You will be doing more than just adding something to the room that increases value (though it does). You will be making something that gives you peace, comfort and relaxation all year long.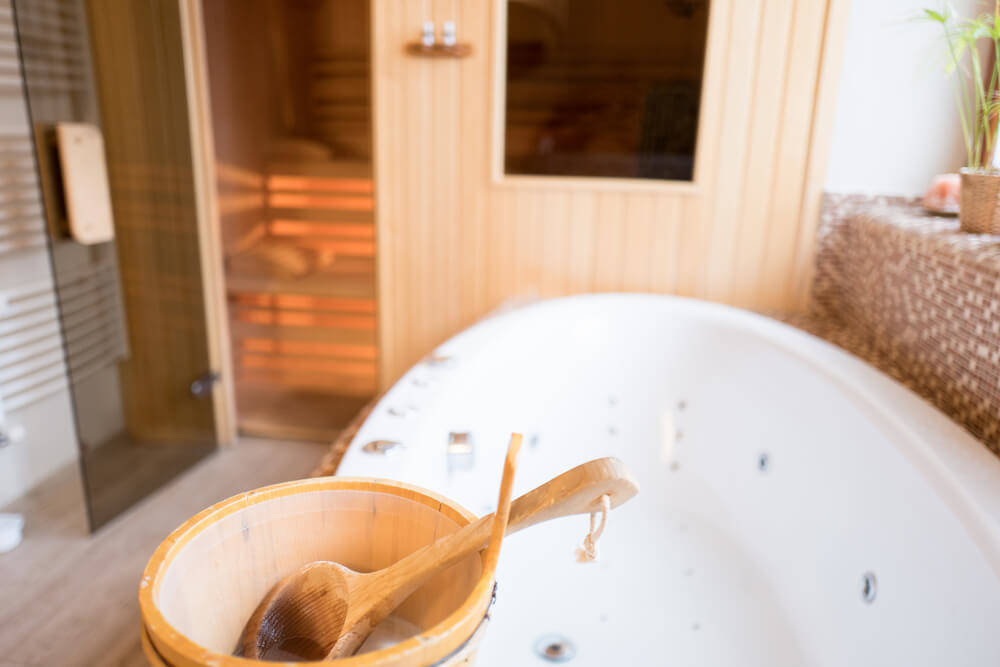 There are an endless number of possibilities to choose from. You can get a modern jet tub that gives you massages at will. There are old fashioned claw tubs that look absolutely amazing. Many people even choose upcycled or rescued tubs from estate sales or junk yards and fix them up for a more rustic or unique style.
Log Cabin Tip #4 - Add a Bit of Fire
What do you think of when you have a log cabin (check there prefab log cabin homes)? Probably sitting in front of a roaring fire with your family, drinking hot cocoa or maybe a glass of wine or brandy. The snow is falling outside and a Christmas tree is twinkling merrily in the corner. It is an image of peace and contentment that is culturally ingrained in many of us who grew up dreaming of owning a log cabin of our own someday.
Guess what? You can get that same feeling in your bathroom. A trend that has really taken off is installing a fireplace in the bathroom itself. You can use covered glass ones, open hearths or even spa inspired wood stoves to create a sauna right there in your home.
This is a bit of a costlier upgrade and it will depend on your zoning laws. The average fireplace install is around $2000. If you don't want to spend that much, or if you can't get cleared by the zoning laws in your area, you can also install an electrical fireplace that looks real enough and gives the same effect.
Log Cabin Tip #5 - Don't Skimp On Accessories
Accessorizing is a key component of bringing together any room. Bathrooms often end up neglected in this regard, much to the detriment of the overall look of the place. That can be fixed with just a little work and a few bits and pieces that solidify the design choices you make.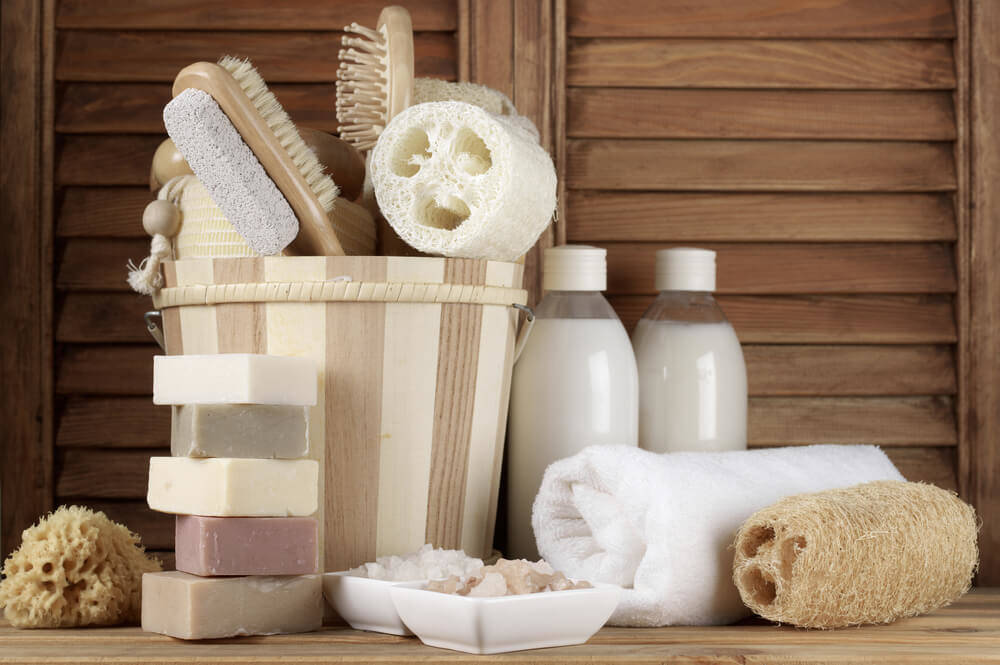 Take into account different items, such as shower mats, curtains, toothbrush holders, toilet seat covers and other little bits of decor. Create a motif using certain colors and patterns that draw the eye without being too distracting. Remember, you want your bathroom to be nice and relaxing.
Consider painting your walls to go with the accessories of your choice. Otherwise you can match the accessories you choose to your walls and floor tiles in order to create a harmonious image.
For a bit of added oomph try install some shells for additional storage space and put up some trinkets like candles, pictures and flowers. Throw up a wine rack on the wall to hold your towels. Get creative!