Are you looking for some inspiration for your indoor garden? You've come to the right place! Today, we are going to give you 5 of our favorite gardening ideas that anyone can use. That's right, with just a few simple steps you can have a beautiful area you have always dreamt about!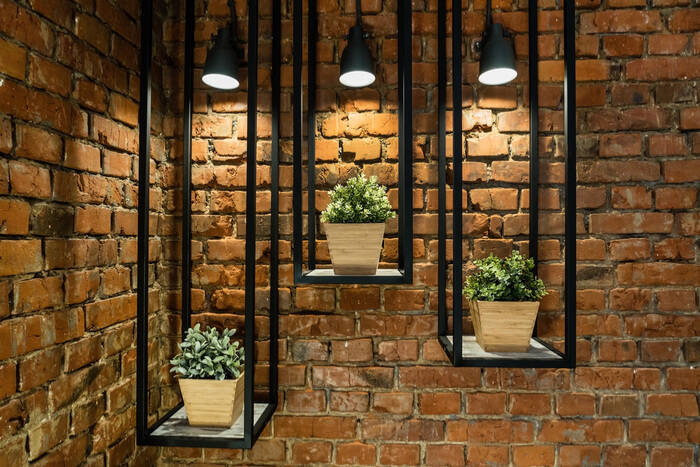 Top 5 Indoor Gardening Ideas
#1: The Small Spaces Need Mesh
If you are like many people, you live in an apartment. That's great, except there isn't always a lot of room for indoor gardening. Not to fear! We've gathered this idea just for you! Lack of space is no longer an excuse.
1. Decide where to put the steel mesh. Steel mesh is the key to this whole operation. If you can hang things in your home, you can hang this mesh on a wall or multiple walls. If not, you can simply lay it down on a flat surface (think the tops of tables).
2. Purchase your hooks. You want to make sure they are plant hooks, because chances are your plants will put a decent load on them. You can buy these and the mesh at a local garden shop or hardware store.
3. Purchase pots. After you have your basics like the mesh wall and the hooks, it is time to move on to the pots. Make sure you pick out pots that can be easily attached to the mesh.
4. Purchase plants. When you buy the plants you should do it at the same time as the pots. Choose greenery that can live in the amount of sunlight the wall gets.
5. Have fun! You can do whatever you want to this wall! Add photos, memorabilia, string lights, or anything your heart desires. You are only limited by your imagination!
#2. The Bar Cart
You may already have a bar in your home, but what about a bar cart? Bar carts are a relatively inexpensive, easy to find treasure. You get to show off your drinks and your greenery at the same time! Here's how: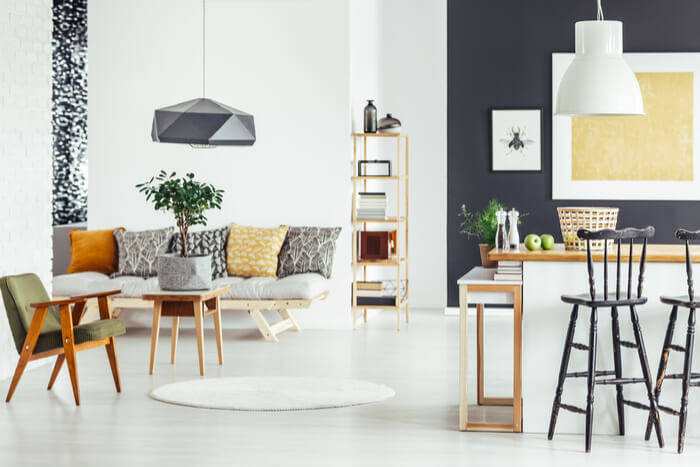 1. Buy a bar cart. This can be as elaborate or as simple as you like. Even if you decide to purchase one that is relatively plain, you can always paint it or decorate it to match the theme of your home.
2. Decide where to put the cart. This will determine what types of plants you need. If you want to put it by a sunny window, you will need partial to full sun plants. In the shade, you will want to stick to indoor or full shade plants.
3. Arrange your alcohol. Decide what glasses and drinks you want to show off and figure out how much room you have for plants.
4. Purchase your plants. At this time, you should also think about purchasing planters as well. Choose some that will match the décor of your home as well as the bar cart. You can even go to the thrift shop and find some unique items to plant inside.
#3. The Great Divide
Have you been thinking about separating 2 of your rooms? This idea will inspire you to use plants instead of bookshelves or other common methods of dividing your rooms. All you need is a garment hanging rack, or a few depending on the scope of your project.
1. Purchase your hanging rack(s). Even if you don't want to divide a whole room, or even divide anything at all, you can still purchase 1 hanging rack to save space and bring some light into the room!
2. Decide on what plants you want. Once again, decide where you want to place your garment rack and see how much sun the area receives. The last thing you want is to purchase plants that are going to die in a few weeks.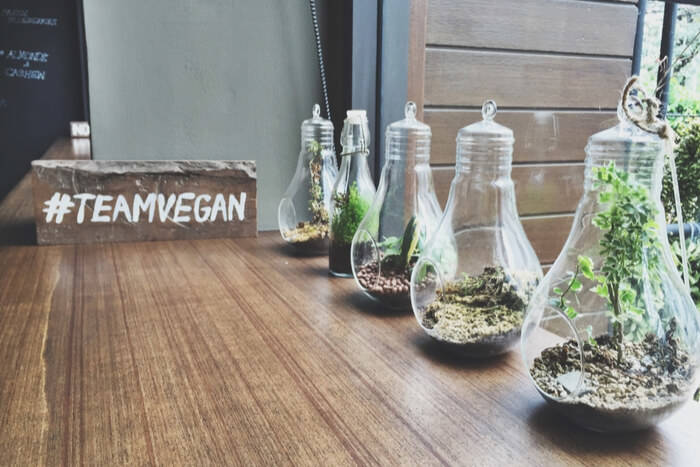 3. Purchase the plants and hanging baskets. For this project, you will need to have hanging baskets. Fortunately, there are thousands of designs to choose from online and at your local gardening supply store. Make sure you buy hanging baskets that are of different lengths. This will let you put more on a rack as well as get the privacy you desire.
4. Racks are for moving! Play around as much as you want!
#4. The Inexpensive Indoor Terrarium
Have you always dreamt of having an indoor terrarium, but didn't want to purchase the extremely expensive kits or already put together designs? So have we. Luckily, there is a way you can make 1, or more, easy and cheap indoor terrariums. All you need is a decorative lantern.
1. Choose your decorative lantern. The first step is picking out a lantern you like. This should have glass on all 4 sides and a way to close it if you so choose. These are sold at garden and home décor shops, as well as online.
2. Pick your plants. Remember, this is a terrarium and the plants inside should be well equipped for life in a more humid zone. If you like, you can even mix live plants with fake plants. It is hard to tell what's what through the glass!
3. Choose the décor. Although just a terrarium is nice, we like to add some outdoor décor to make it all seem more natural. This seamless flow can be accomplished by putting rocks, twigs, or even small string lighting inside to make it pop! Fake mossy rocks are always a great idea to give your terrarium the well-worn look you want.
#5. Hanging Succulents
This is the last, but definitely not least, of our 5 gardening ideas. Succulents are all the craze right now, and we will show you how to incorporate this trend into your home. The only things you need are small, lightweight planters and some nails.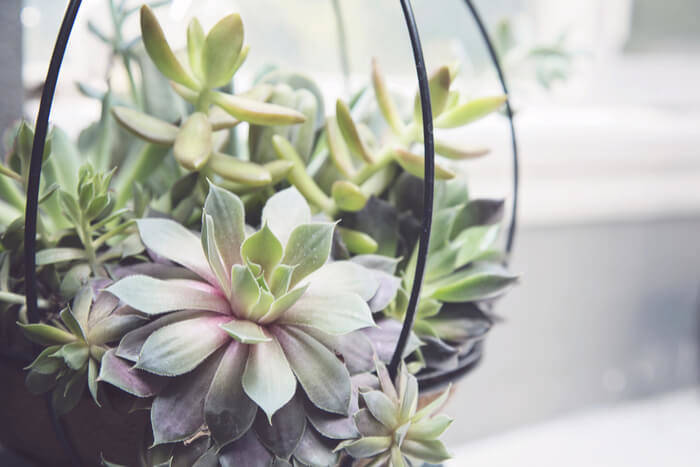 1. Choose your planter. We like to choose small, wooden boxes, lightweight metal, or simple plastic. However, you must be able to drill holes through them into the wall.
2. Hang the planters.
3. Add your succulents. Although the pots are hanging on their sides, you can easily add plants by putting them into another casing before you put them in. Nail that casing into the box, and you have your hanging succulent garden in own log cabin!